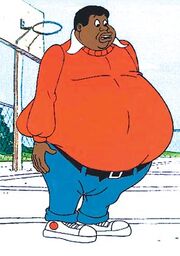 &nbsp
Fat albert is one of the best known characters to date from most critics. He is based on one of Bill Cosbys heroes from his childhood.In the cartoon he is voice by Bill Cosby himself.He is known for saying hey hey hey! it's fat albert! and I'm going to sing a song for you!.In 2002, Fat Albert was placed at number 12 on TV Guide's list of the 50 Greatest Cartoon Characters of All Time.There is also a fat albert film that came out in christmas 2004 and opened to mixed reviews from critics Roger Elbert gave it 2 stars out of 4.
Ad blocker interference detected!
Wikia is a free-to-use site that makes money from advertising. We have a modified experience for viewers using ad blockers

Wikia is not accessible if you've made further modifications. Remove the custom ad blocker rule(s) and the page will load as expected.